Anti-slip tape on roll from haagh protection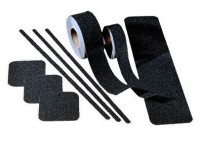 The non-slip tape is, amongst others suitable for situations that require grip where the surface is not significantly heavy loaded. The tapes are available in different widths: 25 mm. up to 100 mm. But you can also ask for other dimensions.
Safety Track tape in differtent shapes, colors and sizes!

Back