Eaci Orfeo International MONTCADA I REIXAC, Spain

Over the years, Orfeo has remained focused on the protection of high risk and high valuables. Given the volatility of such risks, Orfeo understood at early stages that no two fires are the same, hence customizing every single unit that leaves its production premises Today our product range includes protection of marine, industrial, petrochemical, telecommunication and high valuables (museums, hospitals, libraries, banks…) and so on. Orfeo is one of the few companies globally with the technological capabilities to change your old Halon systems "without changing the existing system installation (piping)".

unselect all/select all
You have 0 products selected
powder extinguishers
Send enquiry

6 kg ABC/BC powder extinguisher with carbon steel recipient. Auxiliary pressure with external cartridges of 150 grs of CO2.

extinguishers
Send enquiry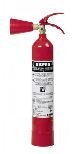 2 Kg CO2 extinguisher with nozzle