Sulzer Pumpen (Deutschland) GmbH BRUCHSAL, Germany

Sulzer Pumps is a provider of innovative products and services to meet a variety of needs in centrifugal pumping. We offer our wide portfolio to business partners in the Oil and Gas, and Hydrocarbon Processing Industries, and to contractors and operators of Pulp and Paper mills, Power Generation plants, and to customers involved in Water Treatment and Distribution, Food, Metals, and Fertilizer businesses. Our state-of-the-art manufacturing facilities are located on six continents with sales offices, Service Centers and representatives in more than 150 countries around the globe.
JTS Standard Vertical Turbine Pumps
Single Stage Pumps

unselect all/select all
You have 0 products selected
Single Stage Pumps
Send enquiry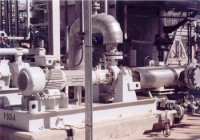 The Z range pump is a horizontal, single stage, radially split heavy duty centerline mounted process pump with single flow closed radial impeller.
Vertical Pumps
Send enquiry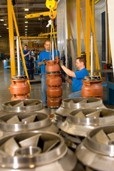 The JTS vertical turbine pump integrates the tradition of providing our highly engineered reliable pump product with the standardization of materials and configurations.

JTS Standard Vertical Turbine Pumps