Marac Electronics SA Perama Piraeus - Hellas, Greece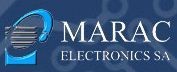 MARAC ELECTRONICS SA covers a wide range of activities in the Telecommunications, Information Technology, Environment, Marine, Energy and Special Applications areas. MARAC provides Marine Electronics Solutions supplying modern and up to date systems such as Satellite, Radio Communications, Navigation, vessels traffic monitoring solutions as well as Marine Simulators. Our company provides full technical assistance to its customer that covers feasibility studies as well as specialized studies conduction, systems installation and maintenance, users training, etc. while at the same time MARAC consists one of the few vertical companies in Greece and Southern-Eastern Europe.
Keiki - PR-6000
Keiki - TD-310

unselect all/select all
You have 0 products selected

high-quality autopilot, designed for optimum safety and reliability. The PR-6000 is compatible with a big range of steering systems, includes an improved interface and is compatible with IBS (Integrated Bridge System).

TD-310 Doppler Speed Log is designed in accordance with IMO requirements, having high accuracy and multi signals output functions such as ship's speed, range